Brad and I just returned from our trip to The Windy City-Chicago, IL. We are in love with Chicago and are already planning our next trip back. We spent our first 2 days in the big city enjoying everything from deep dish stuffed pizza and Chicago "dogs," to shopping on The Magnificent Mile, to the Architectural boat tour on the Chicago River. On the second night Brook and Kyle met us in "the Loop" or downtown for dinner and we strolled around Milleniun Park late in the evening. We spent the next two days in Rockford, where Brook and Kyle have just bought a darling home, and helped them with a little much needed painting before they officially move in next weekend. It was fun to spend time with Marley and KJ-they are growing up so fast. Brook and the kids took us back into Chicago the next day and we spent the day hanging out in Chicago's hip neighborhoods such as Wicker Park and Lincoln Park. Then we went back to Michigan Avenue for more shopping and fun on the beach. Highlights were the Hancock Tower (from the 96th floor) and the "beach" of Lake Michigan.


Amazing view of the Chicago
River and Lake Michigan
from our hotel room
on Wacker Drive.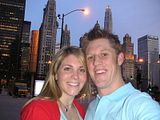 Nighttime in the "loop"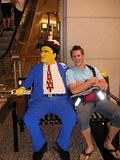 Brad met a new friend outside of the Lego store but he wasn't much of a conversationalist.
Views from the Chicago River: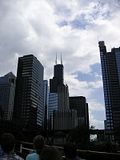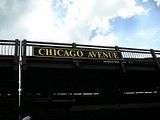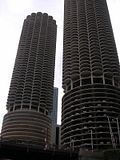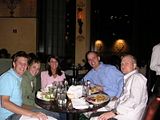 Dinner at the Grand Lux Cafe on Michigan Avenue



Playing on the beach of Lake Michigan